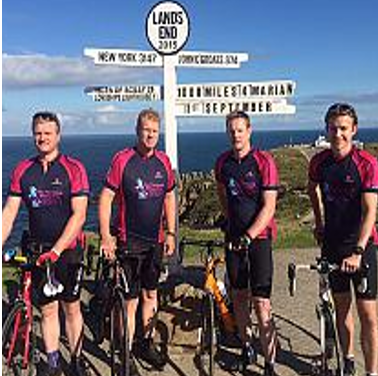 Going the extra 1,000 miles for charity
There's no limit to how far people at Q8Aviation will go for charity … but a thousand miles is certainly an impressive distance! That's what was achieved by Business Development Co-ordinator Robert Parker who, together with his three brothers, cycled the length of England and Scotland to raise funds for the charity Target Ovarian Cancer.
This epic ride celebrated the memory of their mother, Marian, who sadly passed away from ovarian cancer last year. Their 'One Thousand Miles for Marian' journey stretched from Land's End at the tip of Cornwall to John o'Groats in the far north of Scotland, taking in some of the UK's most striking countryside along the way. Over 12 days, the team spent 10 long hours in the saddle each day and covered up to 100 miles, facing the rigours of tough terrain, tired legs and saddle sores!
Robert says: "I'm not a regular cyclist and although we'd trained hard it was quite daunting taking on such an arduous trip. Some days were quite brutal, especially when there were lots of hills, but we were incredibly lucky that it only rained twice and there were highlights along the way, including stops for ice cream and oysters! But it was all worth it for such an important cause."
Fadel Al-Faraj, Managing Director Global Business at Q8, comments: "There's a strong charitable ethos at Q8Aviation – many of our team take on sporting challenges to raise funds for their chosen cause and everyone rallies round to help. We were delighted to support Robert and congratulate him and his brothers on their success with such a tough physical and mental challenge."
To date, the team has raised around £29,000 for Target Ovarian Cancer. If you would like to donate, please visit:
http://uk.virginmoneygiving.com/fundraiser-web/fundraiser/showFundraiserPage.action?userUrl=onethousandmilesformarian&faId=505822&isTeam=true