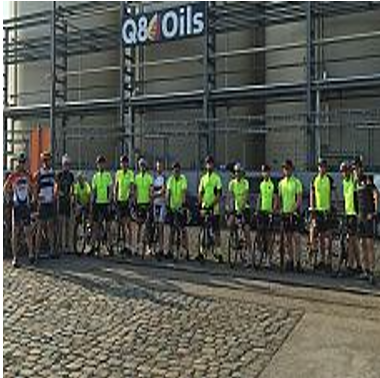 Q8Aviation cycle ride raises £5,000 for charity
An intrepid team of 20 cyclists from Q8Aviation and Q8Oils have successfully completed a 355 kilometre, three-day cycle ride from Antwerp to Woking and raised £5,000 for charity. This was the second annual event celebrating the memory of Benon Banya, senior IT analyst at Q8Aviation, who was a keen cyclist and dynamic fund raiser before tragically passing away during a charity climb of Mount Kilimanjaro in 2013.
On 3rd July, the riders set out on from Q8Oils' blending plant in Antwerp to cover the 130 kilometres to the Hook of Holland on one of the hottest July days on record in The Netherlands. In the UK, the journey continued from Harwich to Hatfield and on to Woking, with more colleagues joining in on the last stretch.
Fadel Al Faraj, Managing Director Global Business, commented: "The ride celebrated the memory of a much-loved colleague and was in the spirit of coming together to achieve something worthwhile and have fun at the same time. Plans are already in hand to arrange next year's event and we would be delighted to welcome any of our customers or suppliers who would like to join us."
Contributions to Benon Cycle Ride II would be very welcome at:
http://uk.virginmoneygiving.com/team/benon-cycle-ride-II
Funds will be donated to Benon's chosen charity, Survivors' Fund (SURF), which supports survivors of the Rwandan genocide, and to other charities nominated by the riders.