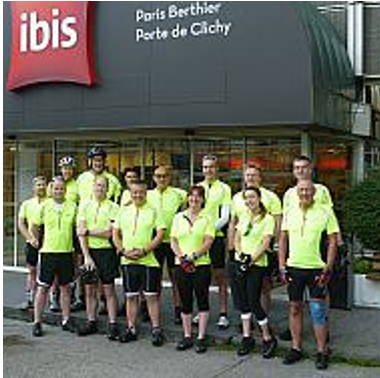 Q8Aviation cycling team raises funds in memory of a colleague
A team of 14 past and present employees of Q8Aviation recently completed a 178 mile Paris to London cycle ride in memory of their colleague Benon Banya, who tragically collapsed and died while climbing Mount Kilimanjaro for charity in spring 2013.
Benon, a senior IT analyst with Q8Aviation, had been the accountant and a tireless fundraiser for Survivors' Fund (SURF), which supports survivors of the Rwandan genocide. His many fundraising activities included the same cycle ride, and his colleagues decided it would be a fitting tribute to repeat it in support of SURF.
The team raised £6,500 for SURF and funds continue to roll in. Françoise Lemagnen Chief Executive, Survivors Fund, comments: "SURF Trustees, staff and Benon Scholars, thank Q8Aviation for their cycling tribute to Benon, a wonderful man and tireless supporter of survivors. Thanks to Q8Aviation we will continue to provide for the education of young Rwandans, as Benon would have wished"
Julian Amesbury, commercial director, said: "This ride was a celebration of the life of a dear colleague and we're delighted to have raised such a large amount. We're grateful to everyone who contributed and to those who turned up to support us on our return to Woking. We're still collecting and would very much appreciate any further donations to this worthy cause."
Q8Aviation's fund raising page is on: http://uk.virginmoneygiving.com/fundraiser-web/fundraiser/showFundraiserProfilePage.action?userUrl=q8aviation&isTeam=true
For information about Survivors' Fund, visit:  www.survivors-fund.org.uk