Q8Aviation launches new website
Q8Aviation has launched a new website with more content about our services and enhanced features for our customers, such as volume information, online ordering and invoice data, that add to the extensive features currently offered.
Infographics
The new website takes a design-led approach, featuring videos and infographics to convey information quickly and clearly.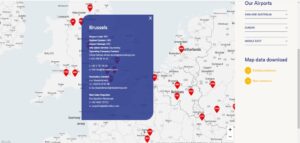 All the airports we supply are now mapped onto Google, making it easier and more accurate for customers to see how Q8Aviation can meet their needs around the world.
Technical Services
In recent years, Q8Aviation's Technical Services – the specialist team who advise the global aviation industry on the safe handling of fuel – have become an increasingly important strand of our business and we showcase the services we offer. We also highlight our ability to supply Sustainable Aviation Fuel (SAF), as the industry strives to achieve net-zero carbon emissions by 2050.
A word from Q8Aviations GM
Naser Ben Butain, General Manager Q8Aviation comments: "Much has changed since we launched our original website a decade ago, both in the way we communicate and in the services we offer our customers. We are a modern, forward-thinking company with a strong customer service ethos, and this is what we were seeking to convey. Our new website will serve us well in supporting our growing business."